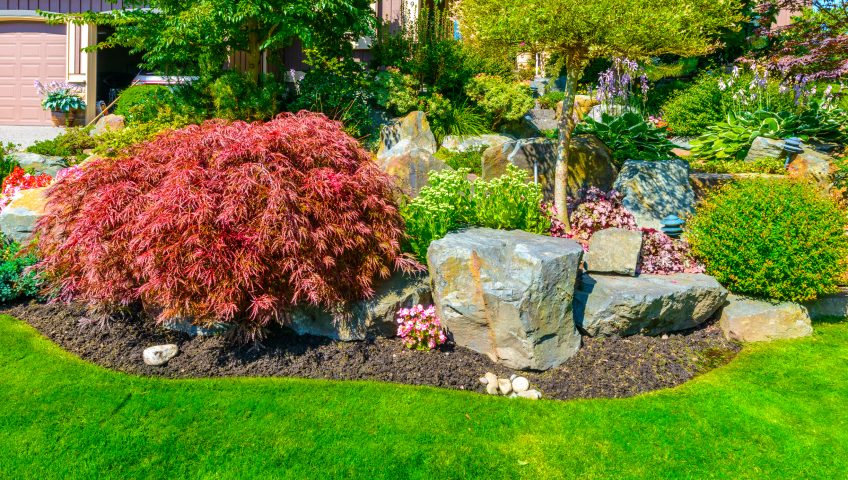 7 Tips From a Landscaper Sacramento
Aronson Landscape, Inc. Offers Expert Advice That Keeps Lawns Green and Yards Beautiful
How much water is too much water? Do weed fabrics work? Homeowners have a wide range of questions about keeping their yards beautiful and vibrant. At Aronson Landscape, Inc., we know landscaping. As the landscaper Sacramento residents rely on for landscape maintenance and design, trust our knowledgeable staff to help you create the yard you've been dreaming of.
Here are 7 tips to help you make the right decisions for your home landscaping.
Don't Overdo It With Plants and Flowers
Many homeowners are tempted to fill large spaces with a large number of colorful plants and flowers. Those visions of yearlong annuals and perennials popping up and adding fields of color may sound appealing, however, the reality is that with any amount of flower and plant landscaping comes the inevitable weeding and pruning. Discretion helps to use flowers and plants to maximize visual appeal without overwhelming and adding unpleasant hours on maintenance.
Weed Fabric Usually Doesn't Work
Weed fabric seems to be a miraculous solution. Lay it down on beds and stop the weeds in their tracks. The reality is that in most soil types, weed fabric does not do much to prevent nature's little unwanted visitors from making an appearance. And multiple layers certainly do not help.
Be Careful About Nitrogen
A large number of commercially available fertilizers contain 30 percent or more nitrogen. Most lawns and soils do not need that much. Instead, you should rely on landscape maintenance that delivers water-insoluble, time-release nitrogen-laden fertilizer about twice a year.
Inside Looking Out is Important
How often do you stand in your front or back yard, facing your house, and look at the landscaping to make sure it's proportional and pleasing? Probably pretty frequently. But it's just as likely you'll be inside your house and gazing at the yard from within. You want to make sure to work with a landscaper Sacramento homeowners trust to keep the aesthetics beautiful from both perspectives.
Connect It With a Walkway
Instead of trampling over and killing grasses to get from one point of interest to another on your property, consider adding a stone, concrete or brick walkway. A walkway creates a natural path that connects elements such as decks, patios, pergolas, pools, fire pits and decks.
Rock On
Are you looking to make a statement, separate elements or add a touch of whimsy? Consider adding a rock. A really big rock. Not sure what kind of rock, shape or size? Consult an experienced landscaper.
Show Off Your Curves
When adding edging to flower gardens, house foundations, driveways or sidewalks, consider something other than straight lines. Curves can help frame a viewer's perspective and add interesting shapes to your landscape.
At Aronson Landscape, Inc., we work with Sacramento homeowners to create and maintain beautiful lawns and yards. We can design and install the features and hardscapes you want to make your yard the place to be all year round.
If you are looking for a landscaper Sacramento or landscape maintenance Saramento, contact Aronson Landscape at 916/243-9350.