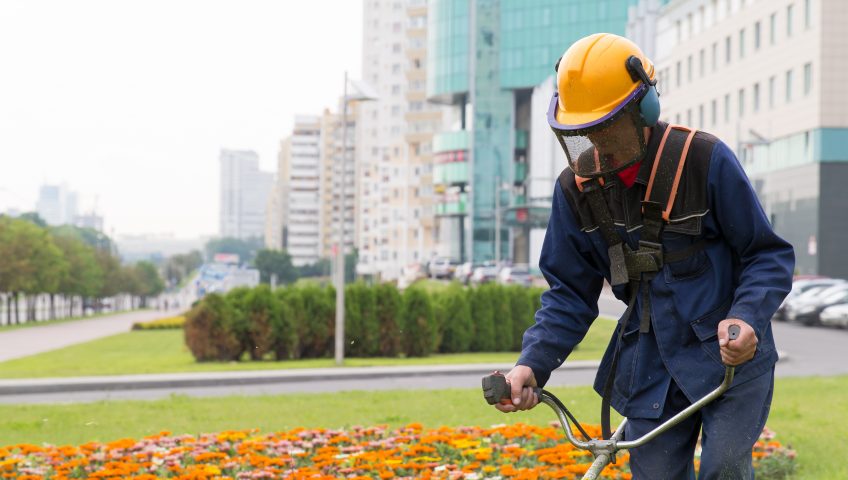 Experience and Commitment to Excellence Sets Aronson Apart From Any Other
Commercial Landscaping Company in Sacramento CA
As an expert commercial landscaping company, Aronson Landscape Inc. offers Sacramento CA property managers and owners multiple options to fit any budget. When you need commercial property maintenance or commercial lawn care, turn to our trusted professionals. As a fully licensed and insured owner-operated company, Aronson Landscape provides free estimates and the Aronson Guarantee, which guarantees noticeable improvement in a matter of weeks.
We offer a full-range of commercial property maintenance services, ensuring that you, tenants, residents, customers, visitors and employees live and work in a welcoming, green, well-kept space.
Among our comprehensive services are commercial landscape design that highlights the natural shape and function of your property while adding the right architectural features to fit the functional needs you have, including:
Flower, tree and shrub installation to enhance your property, create a compelling color scheme, and offer shade and form.
Concrete structure installations such as driveways, patios, seating areas and walkways,
Artificial turf installation to eliminate water and ongoing maintenance costs and creating a consistent appearance to your property.
Drip irrigation systems that allow for slow-drip moisture to roots and plant and flower surfaces. These water-saving systems use rotary nozzles to increase the amount of coverage, lower water waste and prevent over-spraying.
Fencing in a wide range of materials and styles, including brick, chain link, split rail cedar, wood and wrought iron.
Hardscapes that frame and add function to your property. We install all kinds of hardscapes, from seating areas and walkways to driveways, curbs and gutters. We also install columns, patios, pavers, retaining walls and decorate concrete.
Lighting to improve safety and usage. We are experts in LED lighting and low-voltage division lighting that saves energy while still providing ample illumination for seating areas, walkways, driveways, doorways, parking lots and entrances and accent hardscapes, trees and flower or plant beds.
Water features that provide a focal point and calming effect to outdoor spaces, including ponds, waterfalls, and fountains.
In addition to our design services, we offer a complete commercial lawn care service. Our service starts with comprehensive lawn care, including regular mowing, trimming, aerating, weeding and monitoring for fungal, insect and animal damage. In addition, we provide the following commercial landscaping services in Sacramento CA:
Fertilization schedules to ensure healthy, vital growth of plants, flowers, shrubs and trees.
Irrigation system management to ensure that nozzle heads, timers, hoses, valves and tubes are working properly and saving money. Our experienced teams look for signs of aging, vandalism, accidental damage, or clogging with dirt or grass.
Drainage management that ensures proper runoff from lawns, driveways and walkways to keep water from accumulating near buildings or other public areas.
Trimming and pruning of plants, shrubs and trees to make sure foliage grows strong and does not pose a hazard.
Complex maintenance to ensure sports courts at condos and apartments are clean and free of debris.
The Aronson Guarantee states that if you are not completely satisfied and do not see a noticeable improvement in your property's appearance after 30 days, you first month's maintenance is free. If you are looking for a commercial landscaping company in Sacramento CA, then contact Aronson Landscape at 916/243-9350.