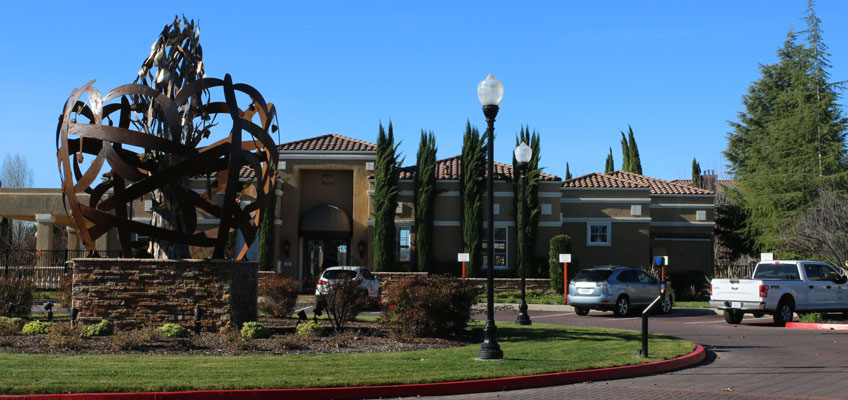 Commercial Landscape Install and Maintenance requires landscaping solutions that serve a range of people – employees, visitors, clients, customers, residents, tenants and property managers. Commercial property managers need practical, low-maintenance options for landscape design, installation and ongoing maintenance. Aronson Landscape provides comprehensive commercial landscape design and maintenance services as well as installation services for commercial spaces in Sacramento, Auburn, Rocklin, Granite Bay and surrounding areas. Whether your commercial property is in need of a complete site makeover, modifications to new or renovated spaces, enhancements to existing landscaped areas, or maintenance for any of the above, Aronson Landscape can provide all of your commercial landscape design and maintenance needs.
Aronson Landscape provides commercial landscape design and maintenance for a wide variety of commercial clients including:
Office Parks
Retail Centers
Apartment Buildings
Condo Complexes
Public or Government Buildings and Spaces
Corporate Campuses
Industrial Parks
Homeowners Associations
Medical Facilities, including Hospitals, Nursing Homes, Clinics and Physician Offices
Schools
Commercial Landscape Install and Maintenance
Our design team works in partnership with our clients to develop the right aesthetics and functionality for a range of commercial sites located in Sacramento, Auburn, Rocklin, Granite Bay and surrounding areas. We provide direct consultations to clients or collaborate with building architects and designers.
Our experienced commercial landscaping team provides comprehensive planning services, including the production of architectural illustrations for record-keeping and to guide installation. Our skilled professionals work with clients through all phases of the project, including initial consultation, plan development, material selection and installation.
Commercial properties often need to serve a diverse range of people and provide multiple functions. With Aronson Landscape, you can be confident that we will develop the right design to meet all your property needs.
Our commercial landscape design and installation services include:
Commercial Landscape Design
The commercial landscape designers at Aronson Landscape are experts at planning out how to blend the architecture of your commercial building with the beauty of the nature surrounding it. We will create architectural sketches to plan out the best commercial landscaping for your property. Our attention to detail and commitment to constructing beautiful, functional and environmentally sustainable systems means we create outdoor spaces that impress, inspire and unify visitors.
Once our commercial landscaping design is in place, Aronson Landscape will plant the foliage and install the landscape elements that could include:
Flower, Shrub and Tree Installation
Our designers will create and oversee installation and replacement of flowers, shrubs and trees that complement the commercial property, type of business and local environment. We work with plant suppliers that specialize in quality, healthy foliage that when planted and arranged with the Aronson Guarantee, create beautiful and elegant properties with bright and vibrant colors, shade and natural ambiance.
Concrete Installation
Aronson Landscaping installs concrete structures including patios, walkways, driveways sitting areas and more at commercial properties.
Artificial Turf Conversion
Replacing live grass or a concrete outdoor space with artificial turf eliminates the need for watering and the cost of repeated ongoing maintenance, while improving the appearance of your property
Drip System Irrigation
Aronson Landscaping installs drip irrigation systems that save water and fertilizing costs. Drip System Irrigation allows water to drip slowly onto the roots or surface of plants and flowers. The team at Aronson Landscaping prefers the use of rotary nozzles, which reduce water waste, and increase the range of coverage, which reduces the number of zones and accelerates installation. This type of system prevents over-spraying and watering in areas that don't need to be watered.
Fencing
Aronson Landscape chooses and installs a wide range of fence options and styles to match the style, location and budget of the commercial property. We install commercial fences in a variety of different materials including wood, wrought iron, rustic split rail cedar, chain link, brick and other materials.
Hardscape
Whatever the elements are that you want in your commercial outdoor space, Aronson Landscaping can plan, design and install the right offerings for your commercial property. We install the following items:
Seating Areas
Driveways
Patios, Pavers and Walkways
Decorative Concrete
Curbs and Gutters
Columns
Retaining Walls
Innovative Commercial Water-Saving Irrigation Systems
Water conservation is a responsibility of all California businesses and business owners. Aronson Landscaping installs irrigation systems that conserve water, time and money. Our skilled landscaping team designs and installs commercial irrigation systems that keep your outdoor commercial spaces healthy while preserving water. Among the types of tools available are:
Smart Controllers- Smart Controllers follow local weather conditions and modify how much water to disperse based on the weather.
Soil Moisture Sensors – Soil Moisture Sensors monitor the amount of moisture in the soil and adjust the watering schedule accordingly, ensuring that plants, flowers, trees and shrubs do not receive to little or too much water.
Rainfall Shutoff Devices – Rainfall Shutoff Devices detect rainfall and shut off scheduled irrigation during rainy days. These devices can easily be installed by Aronson Landscaping on most pre-existing irrigation systems.
Lighting
Installing a well-thought out commercial outdoor lighting plan is important, as visitors need to be able to walk the property safely during dusk hours or at night. There are many possible options for lighting commercial spaces, including:
LED Lighting – LED bulbs are an efficient lighting choice for commercial properties as they last 10 times longer than compact fluorescent bulbs and incandescent lights. LED are durable and last for years.
Low Voltage Division Lighting - Low-voltage lighting solutions are an economical lighting option for commercial outdoor spaces. Fixture options range from glass to copper to ground-mounted well lights. These commercial lighting systems are perfect to light seating areas, paths, driveways, parking lots, building entrances or other outdoor hardscapes, as well as plants, trees and gardens.
Water Feature Design and Construction
Adding a water feature at a commercial building or outdoor space is a lovely focal point for landscape designs, allowing for added enjoyment of your outdoor space. Water features provide a relaxing and tranquil sound and aesthetic for office buildings and outdoor commercial spaces. Aronson Landscape designs and installs a range of water features for commercial spaces, including Koi ponds, ponds, pondless waterfalls and precast fountains.
Commercial Landscape Maintenance Service

To keep commercial properties looking and functioning at their best, Aronson Landscape provides scheduled extensive commercial landscape design and maintenance services. Our teams work with property managers to create a landscape maintenance plan that keeps the property's landscape looking lush all year long..
Our commercial landscape maintenance services include:
Apartment Complex Maintenance
Aronson Landscape provides recurring sport court cleaning services. Whether for tennis, basketball, or bocce, we use the proper tools and cleansers for your court surfaces to maintain the longevity and utility of sport courts.
Fertilization Programs
Proper fertilization of flower beds, trees, shrubs and lawns promote healthy growth, reduce the growth of invasive species, and give your plantings strength. Aronson provides regularly scheduled fertilization throughout the year to ensure that your commercial landscaping investments maintain their value and appeal.
Irrigation System Maintenance
Regular maintenance and inspection of the various components of your irrigation system saves you money and helps to protect and preserve our environment. Aronson Landscape irrigation system maintenance will inspect, test and identify needed repairs on all of your components. Our thorough inspections include checking for leaks in valves, pipes and tubes, either from weather, normal wear and tear, or accidental damage from a tool, tree roots, vandalism, or expected aging. We also inspect sprinkler heads to check for damage from heavy objects, lawn mowers, vandalism or normal wear and tear. Nozzles can become clogged with dirt or other debris. Seals can wear out, causing leaks. Sprinkler heads can also be jostled or tilted or sink over time.
Landscape Drainage
Water runoff can be problematic at commercial properties. Parking areas, sidewalks, buildings and public spaces all need adequate drainage solutions. Our teams will identify and repair any drainage issues in keeping with your site's topography.
Lawn Care
Aronson Landscape can provide consistent maintenance to the lawn surrounding your commercial property. Our lawn care services include lawn aeration, mowing services, weeding edge trimming and monitoring for damage caused by animals, insects or fungal damage.
Lighting
Monitoring and replacing lighting surrounding commercial landscaping can be a daunting task. Aronson Landscaping will continuously check light bulbs and replace damaged or burnt out bulbs. We will also fix or replace any lighting fixtures that have been damaged.
Plant Replacement and Seasonal Color Replacement
Plant replacement keeps a commercial property looking fresh, clean and full of life. Aronson Landscape can replace plants seasonally or as needed. Using seasonally fresh flowers and plants in beds, planters or pots adds a beautiful seasonal feel to your commercial property. In addition to updating the look of a commercial property, plant replacement can be beneficial to keeping soil healthy, as well as keep down the need for spraying for insects.
Plant Trimming and Shrub Pruning
Aronson Landscape provides trimming and pruning of trees, plants and shrubs for commercial properties on a continuous basis. Consistent pruning and trimming will help to keep your commercial property looking tidy and will keep the property safe for your visitors.
Trash Removal
Aronson Landscape provides trash removal for commercial clients. Removing commercial yard waste and trash can be a time-consuming experience. Let us help with your trash removal with efficient, clean and quick pickups.
Tree Maintenance
Caring for trees on your commercial property is important, as it ensures that trees are kept healthy, safe and strong. A consistent tree maintenance to remove problematic or dangerous branches, and shaping of the tree canopy can keep your visitors safe as well as provide a comfortable shaded spot for visitors and employees.
Water Feature Maintenance
The skilled staff at Aronson Landscape will inspect and recommend needed repairs to your water features. We inspect hoses and plumbing fixtures for leaks, cracks, poor connections or clogs. We will inspect and change filters, apply sludge and waste cleaners, detoxify ponds, remove foam and apply algaecides.
Weed Removal
Aronson Landscape monitors commercial properties for weeds such as crabgrass and clover. Weeds can take over the beautiful landscaping that we have planted surrounding a commercial property if they are not removed regularly.
Contact us today to learn more how Aronson Landscape can help you design, install, maintain and protect your commercial outdoor landscaping features at your business in Sacramento, Auburn, Rocklin, Granite Bay or surrounding areas. We will schedule an appointment with one of our landscape designers or a member of our experienced commercial landscape maintenance teams.