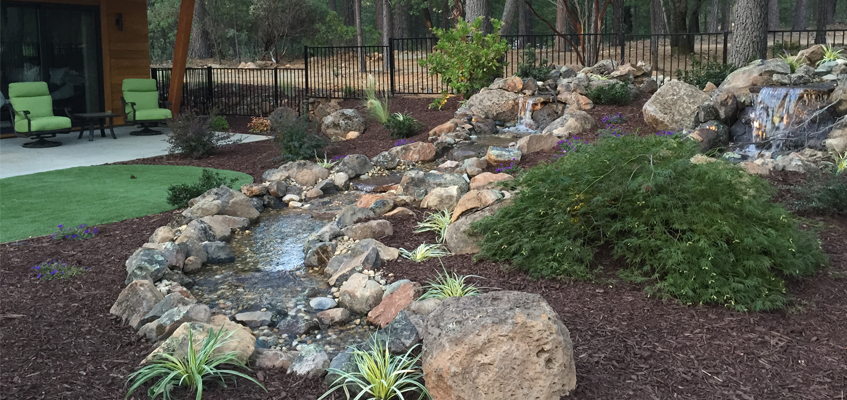 Residential Landscape Design and Installation
From plants and trees to decorative and functional hardscapes, Aronson Landscape has experienced, skilled landscape designers ready to help with all of your residential landscape design and installation needs. We offer a wide range of products that enhance the aesthetics of your outdoor spaces. We work closely with Sacramento homeowners to create the best design for your property, including delivering architectural illustrations to guide installation.
Aronson Landscape works closely with you at each step of the residential landscape design and installation process, including initial consultations, site analysis, material selection and installation. We will discuss your preferences and budget to provide you with the right solutions.
Our team has worked on properties of every size and shape throughout the Sacramento area, including Auburn, Rocklin Granite Bay and surrounding areas. We can provide a complete redesign of an existing space, provide solutions for a problem area, or enhance existing spaces to bring out the best of plantings and other elements. We are familiar with the range of flowers, shrubs and trees that work best in the Sacramento climate, and will recommend solutions for the size, soil content, available sunlight, and location of your outdoor space.
We offer a full range of residential landscape design and installation services, including:
Annual Mulch
Aronson Landscaping offers annual mulch spreading, which conserves water by retaining moisture during dry weather, reduces the need for herbicides, encourages the growth of works and other organisms beneficial to soil, and improves the appearance of gardens.
Concrete Design
Concrete is a durable and strong material that we use in the construction of patios, walkways and driveways. Concrete comes in an array of colors, textures and patterns, making it a versatile building material.
Artificial Turf Conversion
Aronson Landscaping can replace a concrete outdoor space or live grass with artificial turf, which eliminates the need for watering and repeated ongoing maintenance while improving the appearance of your property. Artificial turf needs no maintenance and is 100 percent lead-free. It drains 30 percent faster than natural grass, is fire retardant and has a 20- to 25-year life expectancy. There are many different types of artificial turf available to match your existing or desired landscaping. Artificial turf products are often made from recycled materials and are 80 percent to 100 percent recyclable themselves.
Drip System Irrigation
Aronson Landscaping installs drip irrigation systems that save on water and fertilizing costs. These systems allow water to drip slowly onto the roots of plants and flowers, either on the surface or directly on the root zone. We recommend using rotary nozzles, which provide an even greater degree of efficiency in water application, reduce water waste, and increases the range of coverage, which reduces the number of zones and accelerates installation. Drip irrigation prevents over-spraying of green areas as well as water runoff. Precise placement prevents water from spraying on windows, outside walls, fences or nearby cars.
Fencing
Fences do make good neighbors. Aronson Landscape offers a wide range of fence materials and styles to match your preferences, location and budget. We install wood, ornamental wrought iron, rustic split rail cedar, ranch style, chain link, iron and brick combination and vinyl fences. We also install brick and rock columns.
Hardscape
Whatever the elements are that you want in your outdoor space, Aronson Landscaping can plan, design and install the right offerings that make relaxing or socializing outdoors with family and friends convenient and comfortable. We install the following items:
In-Ground and Above-Ground Swimming Pools
Outdoor Kitchens
Wet Bars
Built-In Barbecues
Outdoor Fireplaces and Fire Pits.
Driveways
Patios, Pavers and Walkways
Decorative Concrete
Curbs and Gutters
Columns
Retaining Walls
Pergolas
Fountains, Waterfalls and Ponds
Innovative Water-Saving Irrigation Systems
Water conservation is a responsibility of all California residents. Aronson Landscaping installs irrigation systems that use the latest technologies to ensure water usage is efficient and effective. These products not only save water, but time and money, too. Our skilled staff can design and install an irrigation system to keep your outdoor spaces healthy while preserving water. Among the types of tools available are:
Smart Controllers - These connected devices use local weather information to control how much water to disperse and when to maximize effectiveness.
Soil Moisture Sensors - These devices monitor the amount of moisture in the soil and adjust the irrigation schedule accordingly, ensuring that plants, flowers, trees and shrubs receive the water they need.
Rainfall Shutoff Devices - When Mother Nature provides all the irrigation you need, these devices will detect rainfall and shut off scheduled irrigation. These devices can easily be installed on most pre-existing irrigation systems.
Lighting
Let your outdoor spaces shine both day and night by allowing Aronson Landscaping to install the right kind of lighting system at your Sacramento home. There are many possible options, including:
LED Lighting - LED bulbs last up to10 times longer as compact fluorescent bulbs and much longer than incandescent lights. LED bulbs are solid, providing durability when jostled or bumped. LED bulbs use very little electricity and last for years, saving you money and maintenance.
Low Voltage Division Lighting - Low-voltage lighting solutions provide an economical way to illuminate your outdoor space. Using a transmitter, these systems reduce the 120-volt power to 12 volts, allowing fixtures that use smaller bulbs. Fixture options vary, from elegant copper to glass to ground-mounted well lights. These lighting systems allow for great flexibility to light a pool area, barbecue, seating area, paths or other outdoor hardscapes, as well as plants, trees and gardens.
Water Feature Design and Construction
The sound of flowing, bubbling, or rushing water soothes the senses and relaxes mind and body alike. A water feature is a lovely focal point for landscape designs, allowing family and friends to enjoy your outdoor space. Water features provide not just sound, but cooling, misting and movement. Aronson Landscape designs and installs a range of water features, including ponds, Koi ponds, pondless waterfalls and precast fountains.
To learn more about how Aronson Landscape can help you with your residential landscape design and installation for the outdoor space you've always dreamed of for your Sacramento, Auburn, Rocklin, Granite Bay or surrounding area home, contact us today. We will schedule an appointment with a member of our experienced design team.
Aronson Landscape offers free written estimates on your landscaping project needs. Our work is backed by the Aronson Guarantee: If you're not satisfied with our work and do not see improvement in your property in the first 30 days, your first month of maintenance is free.